In addition to sport horses and ponies, we are also proud breeders of AKC Welsh Pembroke Corgis.  Females and males, tri-colors, sables & reds.   If you have questions about our corgis please feel free to contact us.  Litters are expected in early  August 2017. We only sell DM and vWD free puppies.  It is best to call (607)760-5867 or email huntervalefarm@gmail.com or casey@huntervalefarm.com.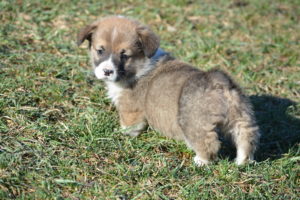 If you would like to be added to the waiting list, please fill in the following form.

A bit about us…
we currently have 13 
Corgis
 who are 
part
 of our family and live in our home with us. Our oldest is 10 years and our youngest 
dog
 is 1! We have three kids, a horse farm,chickens and cats – so our puppies are exposed to many animals and humans! Also we like to keep them a minimum of 8 weeks to ensure a more obedient
dog
 in the future. The puppies run with our "pack" – the elders teach them how to behave like mature 
dogs and to have good manners. 
 Research has shown that this helps make a well adjusted adult 
dog
 in the future. We also start potty training early by taking them outside to p 4-6 times a day. Our puppies come with all their shots, deworming, AKC papers and a extended pedigree to be proud of. Our pedigrees are free of inbreeding and line breeding. We have gone out of our way to make sure are 
dogs
 are NOT related. We also have done genetic testing to ensure that our puppies will never get the diseases  Degenerative Myelopathy(DM)  and vWD (von Willebrand's) which are two common diseases among Corgis.   You can stop by anytime and see four generations of 
Corgis
 at our farm.